Gold Medal Diary: Inside the World's Greatest Sports Event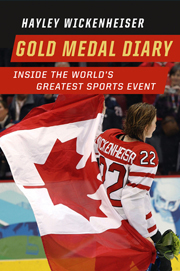 A behind-the-scenes view of the world's most exciting sporting spectacle, from a multiple medal winner and Olympic veteran.
Hayley Wickenheiser is unarguably the best women's hockey player in the world. With four Olympic medals (three gold and one silver) she is the heart and soul of the Canadian team. Now thirty-one, Wickenheiser has been on the national team since she was fifteen and has played more games in international competition and has more goals, assists, and penalties than any other woman in the game. She's also held her own while playing professional hockey on men's teams in Sweden and Finland. In 2008 Sports Illustrated ranked Wickenheiser as Number 20 on a list of the Top 25 Toughest Athletes in the World. In Gold Medal Diary , Wickenheiser reveals her day-to-day experience of the 2010 Games, including the six-month lead-up of intensive training and pre-Olympic tournaments. The heart of this book, though, is what Wickenheiser reveals about the life of an Olympian-the behind-thescenes stories, the highs and lows, physical and emotional challenges, struggles and triumphs of an elite athlete in a hyperintense environment, including details of the public ceremonies and private moments, friendships and rivalries, community and isolation, media presence and security. For the first time ever, non-Olympic athletes can be on the ground inside the storied Athletes' Village and understand what it's like to live through the most high-pressure, high-profile sporting event in the world.