Smarter Negotiations: 10 Key Elements of a Total Compensation Package
"KFC's salary offer is $58,000 and Greyhound's offer is $64,000. How can KFC be so silly and offer me less than I'm making now, and less than Greyhound!!"
There are ten elements that comprise a typical compensation package

The numbers and companies mentioned are fictitious, but it is a discussion we are all a part of from time to time – on either end of it.
I believe that tempting as it might be, because of its abject simplicity, comparing base salaries is a terrible idea. Yes, base salary is a very important part of our compensation. But it is just one part. When we compare job offers, as we surely will given our new year resolutions (!), the number to focus on is our total compensation.
There are ten elements that comprise a typical compensation package. They are:
1. Base Salary
2. Annual/Quarterly Bonus
3. Other bonus (Peer, boss, outstanding non-normal accomplishments)
4. Stock options
5. Stock units (Hurray!)
6. 401k contribution (Pre-tax and Roth)
7. Health & Wellness (Medical, dental, vision, employee assistance program)
8. Life & Accident Insurance (Basic life, accidental death and dismemberment, long term disability, survivor income benefit)
9. Other Insurance (Travel, legal)
10. Perks (Food, internet services, gym memberships, cell phone and service, company bus/train/plane, massages, company discounts, electric car chargers, university/ongoing education funding, etc.)
Depending on the size of the company, the type of industry, or even geographic area, not all of these elements might apply to your package. It is still important that you are aware of them. For some senior positions, there might be even more elements.
When you get a job offer you'll typically get base salary and bonus target. Thank the HR person. Then, ask for a bit more information about the other eight elements above.
Ask what performance determines allocation of stock options and units. Check if the company 401k match maxes out at $8,750 or $2,500. Inquire what the health plan per month cost is, what the typical co-pay for doctor visits and prescriptions is and what's the max out of pocket payment for medical expenses. Seek insights into perks.
Some companies are cagey about these things, and many HR professionals not used to providing information. Don't push them too much. Be polite, get as much as you can.
Then throw it all into a spreadsheet, press Insert Chart, and boom!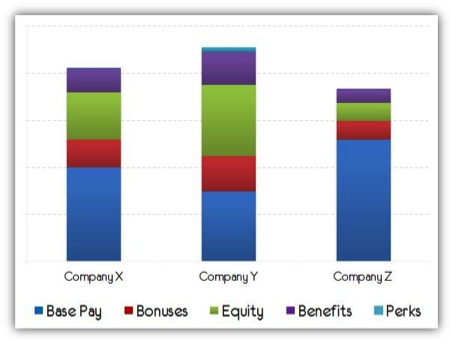 It turns out base pay is important, but it might also not be that the most important thing.
One purpose of this exercise is to get you to collect all the information you need. Company Z might not look as attractive now when compared to just looking at base pay plus bonus.
Another hidden agenda I have is to push you to think in a much more sophisticated manner about the job you are taking.
For example, what are the future prospects of this company? The value of your equity depends on that. Have you look at the last five years of stock performance?
May every offer you get have all ten elements in it, and may they all be gigantic!

Or, do you understand what performance will get you that bonus? Hearing that the bonus target is 40% sounds awesome, but what if just 1% of the company qualifies for full bonus? Would your skills put you in that bucket?
Or, does a company that nickels and dimes their company health insurance program the type of company culture you want to be a part of? I'm not saying you should not, I'm saying you should ask yourself that question because you'll spend 5x more time in that culture than with your family.
Questions like these will take some of the superficiality out of the decision, and help you arrive at the optimal answer. Even if you take Company Z's offer, you'll be much more aware of why you made the decision you did.
I wish you all the best. May every offer you get have all ten elements in it, and may they all be gigantic!